Joe G Paintings
Landscape and still life paintings. Oil and acrylic. Eco-friendly methods.
---
Landscapes
---
Still Life
---
About Joe G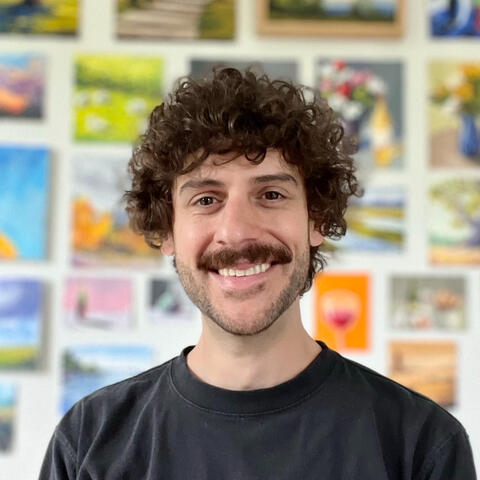 In the 1980's, I sneakily pressed kid fingerprints into my father's oil paintings. In 2019, I took up painting myself, as a safer interest than motorcycles. History repeats. I find cat paw prints on my own paintings.

My influences are my father, Bill Alexander, Bob Ross, Diane Andre, Robert Burridge, Patti Mollica, and Carla Bosch. My bengal cat, Benny Roo, is my muse and art director.

I believe nature is wonderful, but fleeting in our mechanical, digital, and modern age. Nature deserves preservation. So I capture nature's beauty in landscape and still life paintings, as a refuge for my high technology day job.

I use eco-friendly methods, like solvent free cleaning and natural pigments. I recycle many of my materials, and use professional grade supplies.
---
Uses
"Hey Joe G... what [materials] do you use?"
| | |
| --- | --- |
| Oil paints | Gamblin Artist Oils |
| Oil brushes | Bob Ross 1-in, #6 fan and Simply Simmons Flat 8, 12 |
| Oil palette | 12x16 0.125-in clear glass (from the hardware store) |
| Oil mediums | Gamblin Solvent Free Gel, and Fluid |
| Oil brush cleaning | Gamblin Safflower Oil, Chelsea Lavender Brush Cleaner |
| Acrylic paints | Golden Heavy Body Acrylics |
| Acrylic brushes | Artist's Loft Firenze Flat 6, 10, 16 |
| Acrylic palette | Strathmore 12x16 Palette Paper |
| Acrylic mediums | Golden Modeling Paste (for impasto) |
| Acrylic brush cleaning | Water and "The Masters" Brush Cleaner and Preserver |
| Gouache paints | Da Vinci Permanent Artist Gouache |
| Gouache brushes | Artist's Loft Necessities Round 10, 12 |
| Palette knifes | Bob Ross or Artist's Loft types 61, 68, 94, 103, 109 |
| Canvases | Sunbelt Mfg. Co. or Artist's Loft Level 2 |
| Paper for acrylic | Canson or Arches 300 lb bright white watercolor cold press |
| Paper for gouache | Strathmore 300 or 400 Series watercolor |
| Gesso | Utrecht Professional Acrylic Gesso |
Oil Color Palette
Phthalo Blue

Prussian Blue

Burnt Umber

Burnt Sienna

Sap Green

Yellow Ochre

Indian Yellow

Cadmium Yellow Light

Cadmium Red Light

Alizarin Crimson

Ivory Black

Titanium White
Acrylic Color Palette
Phthalo Blue (Green Shade)

Manganese Blue Hue

Teal

Light Green (Blue Shade)

Phthalo Green (yellow shade)

Hansa Yellow Medium

Dairylide Yellow

Pyrrole Red

Medium Magenta

Dioxazine Purple

Bone Black

Titanium White
---
Contact / Commission
---
© 2020 Joseph J Guerra. All Rights Reserved.
Reproduction prohibited without explicit written consent.