Joe G Paintings
Natural and painterly 🎨 Landscapes in oil 🌿 Mana and impressions ✨
---
Artwork
---
About Joe G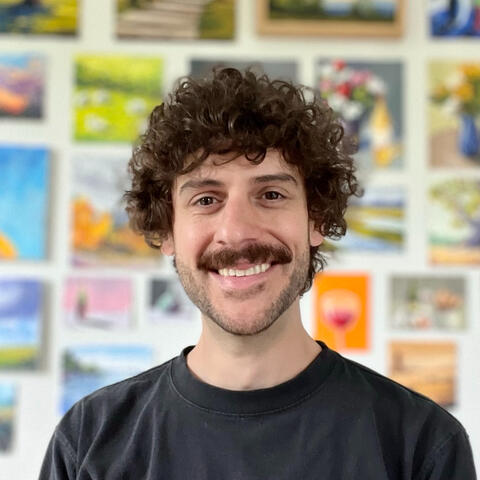 🌿 Nature is wonderful and mystical, but fleeting in our mechanical and digital age. So I paint to remind us all of nature, and as a refuge from my high technology day job.🎨 I emulate the impressionists, using oil paints and bristly brushes. I prefer natural and traditional pigments over the modern organics.✨ My style is bold and painterly. I like capturing landscapes en plein air (painting outside). Magic the Gathering mana cards are also a big source of inspiration.🙌 My influences are my father Steve Guerra, Turner Vinson, Antonin Passemard, Ulrich Gleiter, Stuart Davies, Jose Trujillo, William Hawkins, Hester Berry, and Tara Will.
---
Materials
My preferences... right now. Always evolving.
| | |
| --- | --- |
| Paints | Utrecht, Gamblin, Winsor & Newton (oil paint) |
| Colors | Ultramarine Blue, Cobalt Blue, Alizarin Crimson, Cadmium Red, Yellow Ochre, Cadmium Yellow, Titanium White |
| Mediums | None. Straight from the tube. Sometimes Gamsol to loosen. |
| Brushes | Rosemary and Co Classic Filbert or Rounds 2,4,6,8,10,12 |
| Knifes | RGM types 68, 103 |
| Palette | 18x24 0.125-in glass (from the hardware store) or thin wood palette |
| Easels | Yarka, homemade box on tripod, American Oak tabletop |
| Cleaning | M Graham Walnut Oil, Gamsol |
| Panels | Ampersand Gessoboard, Michaels |
| Canvases | Sunbelt Mfg Co |
---
Contact / Commission
---
© 2022 Joseph J Guerra. All Rights Reserved.
Reuse prohibited without explicit written permission.